One of my first experiences as a teacher trainer was in 1990 when I did an in-house training workshop for my colleagues in an English academy in Madrid. The workshop was about using pictures in the classroom. I remember it because I'd been nervous beforehand and not really sure how my ideas would go down. But it was a success because then, as now, what most teachers wanted were some simple ideas that they could try out straight away. Pictures are a great resource for prompting speaking and writing and also for practising grammar and recycling vocabulary. And, more importantly, pictures are motivating and are a good way to get the students' attention. My favourite classroom activities are those that require little – or no preparation. Here's a simple idea for practising question forms with your students using a picture as a prompt.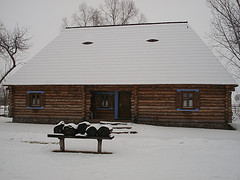 Photo by @adhockley | Image supplied by ELTPics. (Some rights reserved)
Show students the photo above and tell them to think about it for a couple of minutes without saying anything.
Put students into pairs or small groups.
Write these 'answers' on the board or dictate them to the students.
A young man.
Two rooms and some simple furniture.
Six miles.
Yes.
No.
Wood.
Some trees.
It's cold and windy.
Six.
In 1975.
Students work together to write questions for the answers.
When everyone finishes, students regroup to compare their questions.
Monitor students as they work and address errors in a general way, on the board at the end of the activity.
Follow up homework tasks
Option A
Students find another photo and write 5 'answers' to possible questions about it. In the following class they exchange photos and 'answers' and write more questions.
Option B
Students write a short text about the photo using the information in their questions and answers.
This activity works with different level classes and also with mixed levels within a class. There isn't one correct answer. There are a range of possibilities. Students' answers will be driven by their ability to form questions in different tenses. So an A2 student might answer the first question with Who lives here? But a B2 student might answer Who took this photograph? Or Who does the cabin belong to?