Fiona Mauchline: Get them speaking
The first activity – which fans out into five activities - ended with so much laughter I couldn't speak for tears. The second I had originally intended as a speaking 'warmer', but ended up as the basis for the whole lesson as it ran for over half the class (the trainees were getting so much from it, I let it run)! The joys of affordance. Both involve images and moving around. Both turned out to be more motivating than I could ever have dreamed of. One was a fantastic group builder, the other an amazing ice breaker. The third activity is a way of reviewing the first two. Ready?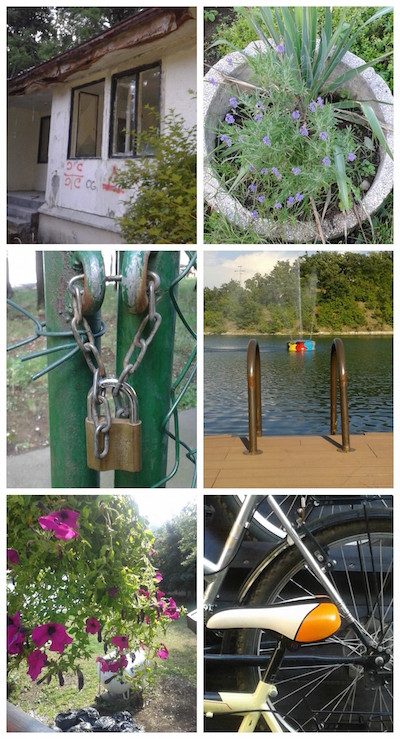 The Group Builder
I did this with trainees on a short, residential course. If you do this activity with students, teens / young adults would appreciate it more than older adults. We had five stages combining to make a kind of scavenger / treasure hunt type activity, but the first four stages could each be done separately.
The course where I used this activity took place in a hotel, which had some curious pieces of art here and there, and old photos of the region along the corridors. It was also surrounded by woods and on the shore of a lake.
I decided to go unplugged (a term that needs a rethink, as it doesn't necessarily mean 'no technology') and use what was around us. I took 12 close-ups, 6 regular photos from around the hotel and grounds, and 2 photos of 'meaningful objects'. Six of the close-ups were inside, six outside. The activity consisted of five stages – they had to complete each stage before going on to the next (very 'gamification'…) – but, apart from the fifth, the stages could also work separately in a class. The trainees were in teams of 4 throughout.
Stage 1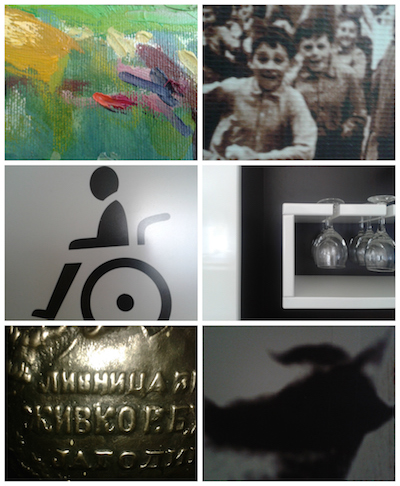 I gave the trainees the close-ups of the photos (I had the mosaics on my laptop – they used their phones to take photos of them. No photocopying, no waste). They had to find the places shown and take a selfie with the thing in the background. They then had to write down where it was, how they'd found it…. something related to the photo. As they were in teams of four, at least two members of the team had to be in each selfie. This forced them to organise, collaborate etc. and also meant no-one could simply coast.
They had to work together not just to find things and take selfies, but also to decide what to say / write about each thing. In a different teaching context, you could take the photos around your town or neighbourhood, or even in the school buildings but do the scavenger part of the activity in break times, and set this task as a team homework. I'd only recommend running around a site on a residential summer course!
Stage 2
The groups looked at the six photos of things around the hotel and wrote captions. The captions (in this context) had to be related to some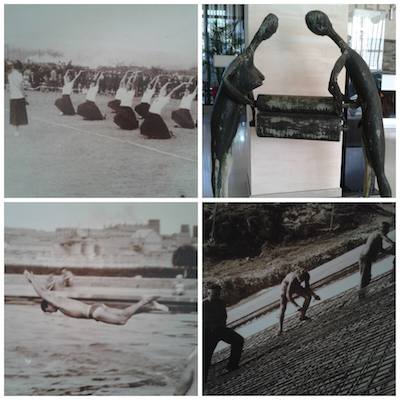 aspect of methodology dealt with on the course (see left - what would YOU have said?). In the classroom, it could be to review language. This was a 'quiet' stage, as we had alternated stirrers and settlers.
Stage 3
This involved doing things; in this case, playing basketball, table tennis and squash. They had to teach and support each other, to achieve goals, and my co-trainer filmed them. This not only gave us a tool for reflection on language afterwards, but on how to support our peers and encourage learning, useful skills for students as well as trainees. An activity like this could easily be implemented in a classroom with groups making something together after watching a video on Youtube, for example, and one member of each group filming (CLIL classes also come to mind here). Groups would then watch the film of their group and complete a reflection task on language used and on how they helped each other. You would then have a class discussion without needing to watch each other's films, as sharing films can make some students uncomfortable. What they could share afterwards would be the language they heard or used, how they could improve certain things, ideas on the cultural aspects of forms used for instructions and encouragement, and so on.
Stage 4
My co-trainer and I had each told an anecdote during the course. I had taken photos of two things associated with those anecdotes. The teams were shown the photos and had to try to remember and write the two stories. They focused more on the content than the language, which had the effect of improving the team dynamic – the 'I'm not as good as you in English' mindset was replaced by each team member keen to contribute what they remembered.
Stage 5
Everyone gathered to listen to other teams' answers and award points. This was essentially an extended listening activity, but it was hilarious – particularly the captions. The trainees themselves decided if the captions, for example, suited the photos, so were obliged to listen. Likewise with the stories – they had to decide which stories were closest to the originals to award maximum points.
NOTE: one group of trainees, when subsequently asked to design a classroom activity, merged the first two stages above. They took close-ups for students to say what they were of and write captions. They then jumbled up the captions and swapped them for another pair or group to match to the photos. The brains behind this variation were Gordana Velaja, Mirjana Subasic, Azra Hadzihajdic, Neda Jovanovic and Zorica Damjanovic.
The Ice-Breaker
This is so simple it's ridiculous, but students love it. A colleague of mine who tried it said it was worth it just for the looks on her students' faces.
Instead of the typical 'Find someone who….' type ice-breaker or the 'Talk about your weekend' Monday activity, ask your students to take two minutes to look at the photos on their Smartphones (with the wifi off… best avoid temptation…) and to choose two or three they'd like to share with their classmates.
They then mill around (or work in smaller groups if you have a big class), showing their photos and talking and asking about them. This allows them to choose and control what they share. In fact, the last time I did it, a couple of trainees' phones had run out of battery, so I said 'Use your memory, and pretend the photo is on the screen'. (This was a version of The Invisible Photo, an activity I saw a certain Mr. Thornbury demo over 20 years ago.)
This helps students who don't have, or don't want to show, phones – they pretend they have one and there's a photo on the screen. It is probably best to use 'imaginary' phones with younger teens too, as besides the fact they may not all have one, some will have 'trendier' phones, or phones way down the Cool Scale, and 'comparisons are odious'.
The 'End of My Day' Reviewer
A final activity involving images and skills as well as speculating and group or pair work. This activity can follow on from The Ice-Breaker (a lesson later) or from The Group Builder activities - or from any class at all.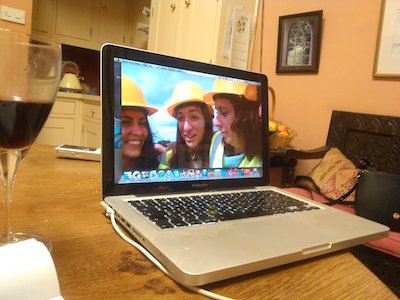 Either take a photo during an activity, or borrow one of the photos a student has shown during the Ice-Breaker. Put it on your tablet or computer, and take a photo of it, and include some of the setting, as in the example on the right.
Show the students your photo. In groups or pairs, they try to remember what the photo in your photo was showing, speculate about why you chose it, and about what else they can see in the picture. This is a 'gentle' way of sharing something of your life with them and of showing that they are part of your life. It also provides a springboard for language generation, review and collaboration. You can then ask them to take a similar photo at home to use in a future lesson or to write about.
So there you go. I hope you find these ideas useful. And if you give them a go, it'd be great to hear how they work out.
Images © Fiona Mauchline 2015