You are here
English at your students' fingertips
There is a lot the teacher can help with but for students to really get ahead, time spent in the classroom is not enough; they need lots of practice outside class too.
It is very important for a teacher to consider what students are doing outside class and provide guidance on improving their English. This goes beyond setting homework and should include highlighting tools and resources that students can use to develop their English skills every day.
In many situations around the world students at secondary level and above have access to smartphones which offer a wide variety of apps through the app stores that can help. In fact there are arguably too many; search 'Learn English' in the Apple App Store or Google Play and you will be confronted with so many options it's difficult to know where to start. One good place is of course the apps developed by the British Council with our world-renowned content written by teachers and mobile learning experts.
That's why, in this article, we are going to spend some time looking at the LearnEnglish mobile apps available from the British Council.
You may already be aware of the apps, but you might not have downloaded them yourselves or shown them to your students and explained how they can benefit their English.
The British Council offers a number of apps that together provide a holistic range of tools that can really help improve your students' English. There are apps which provide listening practice, learning tools which can be used to study vocabulary and grammar and also some games for an entertaining approach to learning.
Listening practice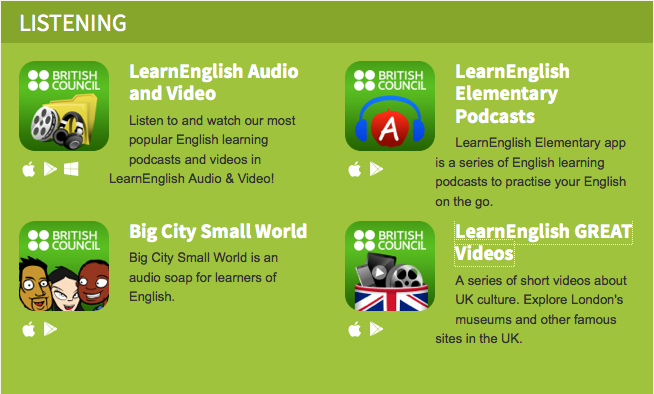 Listening to English audio and watching English video is a great way to become immersed in a language. You hear accurate models of the language, hear how the language is used in context and build up competence in the language. Audio and video content also lends itself very well to mobile; people love having the convenience of accessing audio and video from their mobile device.
LearnEnglish Audio and Video provides many of the British Council's best audio series in one app. The benefit of having them in an app means that they can either listen on the go, or if they can use the screen too then can easily read along with the audio script; a great way to reinforce the language being listened to. They can also access this content offline which makes it very accessible.
The audio script in the app includes a glossary with key words defined and there are comprehension questions available as well to help students with their understanding.
There is even an option to slow down the recording if students' find it too fast at the start, a common problem students find when learning English. A good way for students to feel they are making progress is to listen to the audio at the slower speed first and then listen again at the normal speed.
Other listening resources include LearnEnglish GREAT videos, which is a free app with the same features as LearnEnglish Audio & Video with 24 videos about life in the UK. LearnEnglish Elementary Podcasts and Big City Small World are two further apps that provide access to those two popular series from our LearnEnglish website.
Learning tools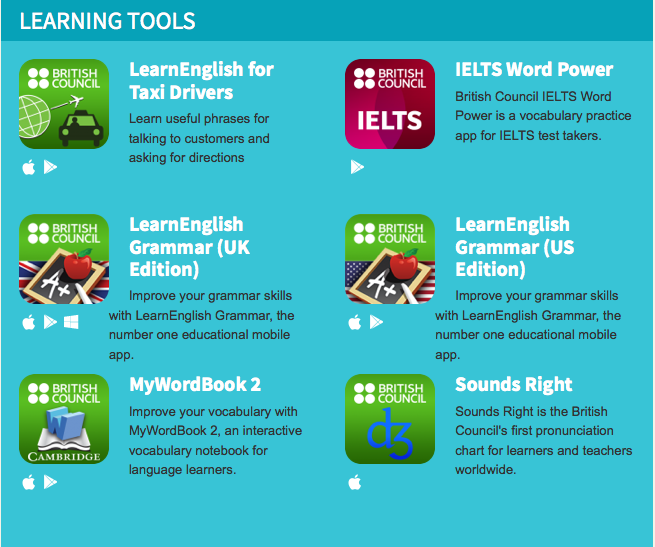 Some of the LearnEnglish apps are focused on the systems of English – grammar and vocabulary. LearnEnglish Grammar provides grammar practice across all grammar areas split into question packs available at different proficiency levels based on CEFR levels (A1 – C1). These have been given user-friendly names such as Beginner Pack 1, Beginner Pack 2, Intermediate Pack 1, Advanced Pack 1 etc..
The content for each question pack was based on the grammatical structures as described in the British Council | EAQUALS Core Inventory for General English. This links different grammar areas to the CEFR levels that these structures are most necessary. (For more information on the Core Inventory see http://www.teachingenglish.org.uk/publications/british-council-eaquals-core-inventory-general-english).
The Core Inventory splits grammar topics into a number of topics and sub-topics. The content in LearnEnglish Grammar is based on these sub-topics with a variety of exercises for each grammatical area.
The content has been written so that it first introduces the target language in context, through the use of imagery and audio, with simple questions to get students to notice how the pattern of language is used. The questions then get progressively more difficult allowing students to build on their understanding of the patterns until they are producing the language. This form of scaffolding is very important to students when they are studying by themselves.
Games
When thinking about mobile apps, people often think about games – and the British Council also offers a few language games for students to enjoy.
The latest is Johnny Grammar's Word Challenge which provides a quiz format to test students' knowledge of vocabulary and grammar. Students have 60 seconds to try and get as many questions right across a range of lexical and grammatical areas at various levels, and if they succeed they are rewarded with badges to collect.
Putting it all together
Put these tools together and you have a comprehensive set of resources to make regular, independent English language practice fun and accessible for your students. Each of the apps has been designed to focus on one area of language, and altogether they provide a complete set of tools.
You can download a PDF version of our presentation of the apps to show your students below.