Although I'd just accepted that the line was straight from the mouth of the Buddha himself, my teacher, the poet Cid Corman, taught me the truth, and did it with little more than a wave of his hand, a gentle laugh, an ear-to-ear grin, and another cup of iced tea.
"Oh, that wasn't the Buddha" Cid said while pouring out the tea, "that was some woman named Collins pretending to be swami - or so the story goes."
Having just misused the quote to say something backhandedly prideful about myself - a poet-wannabe proud to be sitting in the presence of a master - I'm sure I blushed. Cid wasn't interested in my embarrassment, though.
"Everybody has the truth in them. Why be afraid to admit it? Trust your own words and be your own truth," he said with a smile. "Anyway, here, read this …" and then he passed me a letter he'd received that day from a writer as famous as Cid was. As I marveled at even holding such a thing in my hand, Cid talked about his relationship with this person in a way that made me feel that I was an equal, a person of value, and a close friend. Cid was a circle and he brought me inside.
This was back in 2003, a fairly lonely time in my life, and what would turn out to be the last year of Cid Corman's life. As a student of American poetry in university, I'd read and greatly admired Cid's work in anthologies and was the proud owner of a few issues of Origin, a seminal poetry journal he'd edited which introduced the world to many of the major American poets of the late 20th century. Now, there I was sitting in his living room in Kyoto, Japan and though not at all ready to learn what Cid began teaching me that day, entirely welcomed just as I was, right from the start. "Here, look at this," Cid said.
How I came to know Cid is a long story about how the connections one has early in life and don't think too much about turn out to be the most important connections of all, but that's not what I want to tell you about now. What I want to tell you about is how I'd take a series of trains and buses every Wednesday that year to meet with Cid, how this great man would be waiting for me at the bus stop near his house, how he'd greet me not as if I was a student who had come to learn, but as the most important person in his life at that moment.
During the hours we'd spend together each week, Cid gave me the gift of his complete and undivided attention. He also gave me a thousand stories, some new ways of seeing, a handful of tools I needed right then to live more fully, a vision for how to build a community while living out on the edge of the world, and a model for being a teacher that I've tried in my own way to follow ever since.
"You don't need to be in a classroom to teach, you know. You don't have to be in a school to learn," Cid told me. "A teacher doesn't draw lines," he said. "A teacher is the line and that line has to form a circle," he told me. "Pull everyone into that circle you are. That's what teachers do. That's what we're doing here," he said.
That was nine years ago. Although Cid passed away in March 2004, I still hear his words. They came back to me when I left my job at the university last year and made the world my classroom. They came back to me in a series of presentations I did last year in which I used a poem Cid gave me to talk about what teachers can be …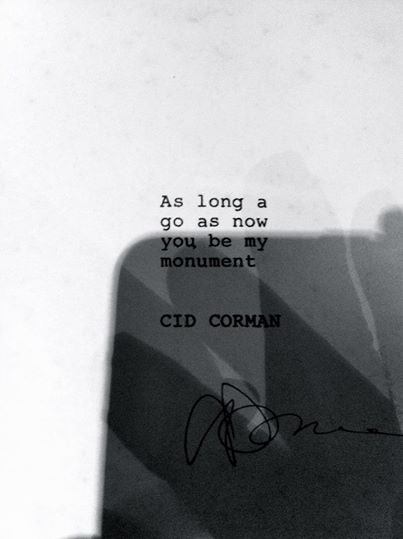 His words came back to me today as I thought about this post and the influence Cid Corman has had on me. Maybe I'm ready now? Yes, I am ready, and yet still learning from this teacher who years later keeps appearing in my thoughts and my life.
"When the student is ready the teacher will appear," goes the faked quote wrongly attributed to Buddha. "Everybody has the truth in them," said Cid. "Why be afraid to admit it? Trust your own words and be your own truth."
These are my words. This is my truth. I have it in me. I'm not afraid to admit it.
Thank you for seeing that, Cid, even when I didn't really believe it was in even me.
 
Chuck Sandy is a teacher, teacher trainer, author & educational activist with 30 years of experience in the US, Japan and Brazil. His many publications include the Passages and Connect series from Cambridge University Press and the Active Skills For Communication series from Cengage Learning. He is a frequent presenter at conferences and workshops around the world. Chuck believes that positive change in education happens one student, one classroom, and one school at a time, and that it arises most readily out of dialogue and in collaboration with other educators. This is the reason he has built a Facebook group with over 9000 teachers from 24 countries that meet for ongoing educational discussions. It is also the reason he has worked to introduce Design For Change into Taiwan, Thailand, Indonesia, Japan, and Russia.